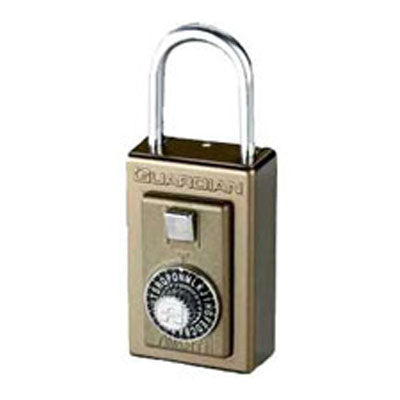 Avanti Guardian Dial Combination Lockbox
Quantity: In Stock
SKU: AG 001
The Avanti Guardian Dial Combination lockbox is a great alternative to the Supra brand. The dial combination model operates with the same opening method using the letters of the alphabet on a dial. This gives you a large amount of choices for codes to control the security of the property being protected. Your Avanti's combinations can be set to your code, as requested with your order, at no additional charge. With a rubber boot on the back of the device, the Guardian lock box can be safely hung from a nail, doorknob, fence, external house light, or other extruding object on your house with little to no risk of damage to a nearby wall or siding. 

Now unlike the ShurLok lockboxes, the Guardian lock box can use any of the 26 letters of the alphabet whereas the Shurlok can use one of ten letters on each dial. Even though the Avanti Guardian lockbox has only three letters for the code as opposed to the ShurLok's four, the fact that it can use the full alphabet makes up for it in spades. Coupled with its all metal construction, this lockbox is ideal for both low and high security applications.

To offer you the best prices we can on this product, we require a minimum order of five lockboxes when you purchase from us.  If you wish to purchase more than fifty you can get even further discounts, but you must call 1-800-508-6889 to place an order of that size.