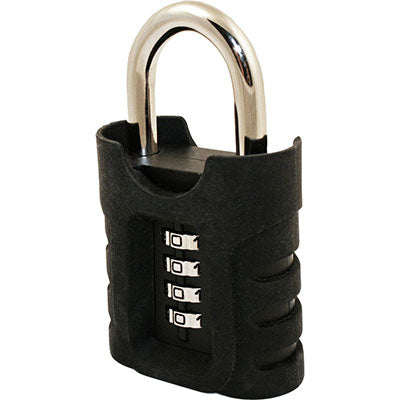 For more Padlocks 4 Less products, click here.
Retail Sales
Padlocks 4 Less SX-973 Combination Padlock With Rubber Cover
Quantity: In Stock
SKU: SX-973
Heavy duty combination padlock with 10,000 possible combinations Large front-facing dials for easy use and quick access No spring loaded parts to corrode or wear out over time Easily resettable and user friendly with no change key or pin required Standard size shackle silicone version
Combination Padlock
Heavy Duty Combination Padlock
These heavy duty, all weather, combination padlocks are encased in a silicone sleeve to protect against the weather and from scratching and denting gates, containers, trucks, sheds and more. There are no spring loaded parts that will rust or wear out over time creating a one of the best combination padlocks on the market. Heel and toe locking shackle provides extra security and with over 10,000 possible combinations, feel confident that your valuables are protected and safe. Different sizes and styles of this lock are available to fulfill many different applications.
User Friendly Combination Padlock
With its larger, front-facing dials, there's no need to turn this high security combinaton padlock upside down to peer at small numbers that are hard to see and use. This combination lock is more user friendly and easily resettable compared to other combination locks. To reset the combination, turn the built-in reset screw with a dime, paperclip or a flathead screwdriver. Note that the screw will not turn unless you are on the correct opening combination. To open the shackle, simply set dials to the current opening combination and open with no additional pushing/slamming required.
Standard Silicone Shackle Version
This style of resettable lock is the standard shackle version. The shackle has a 1 1/4" clearance and a 5/16" thickness. It is made of hardened steel and has Heel/Toe locking. Note that the lock is not intended to be used as a handle or pull.
Combination Padlock Features
Silicone sleeve
Hardened steel shackle
Heel & Toe double locking shackle
No spring loaded parts to wear out
Front facing dials
10,000 possible combinations
No change key or pin required
Weather resistant