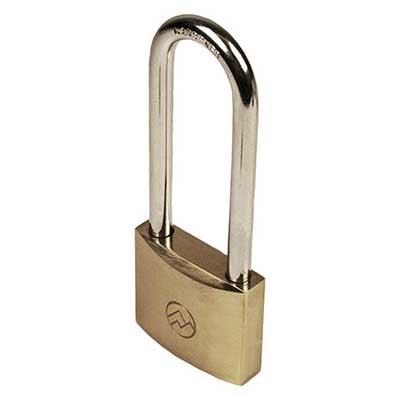 For more Padlocks 4 Less products, click here.
Retail Sales
Padlocks 4 Less Mountain Series BP125LS 1 1/4" Long Shackle Solid Brass Padlock
Quantity: In Stock
SKU: BP125LS
1 1/4" Long Shackle Solid Brass Padlocks 
1-1/4" body width long shackle pad locks. Hand polished solid brass , pin tumbler construction, brass internal parts, heel & toe locking for additional security, hardened steel shackle, 3 keys per lock, keyed alike available .

Long Shackle Padlocks
Mountain Series long shackle padlocks offer quality pin tumbler padlocks with a proven 10 year history track record. These long shackle solid brass padlocks offer the most competitive pricing on solid brass pin tumbler padlocks.
Pin tumbler
Solid brass body
Brass internal parts
Hardened steel shackle
Heel and toe locking
All weather, indoor/outdoor
Includes 3 keys per lock
Individually blister packed
Packed 10 per box