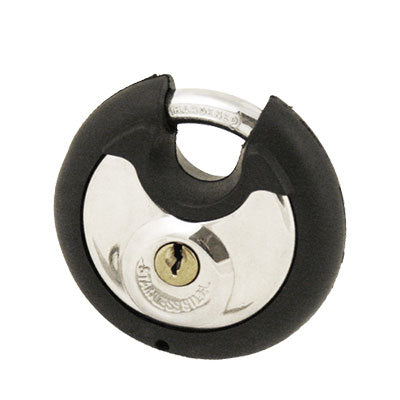 For more Padlocks 4 Less products, click here.
Retail Sales
Padlocks 4 Less SX-798 Flat Key Disc Padlock With Cover
Quantity: In Stock
SKU: SX-798
Does your job site, storage units, delivery trucks, or multi-security application require commercial grade padlock to insure protection of your valuables?
Let me introduce you to our Flat Key Disc Padlock  SX-798 with Cover and what it can do for you!
Outdoor Lock
Stainless steel body for maximum strength, reliability and corrosion resistance.
Strong Security
Fully shrouded design minimizes shackle exposure and protects against bolt cutter attacks. Double deadbolt locking for superior pry resistance. The shackle cut force, make this the ideal lock for your industrial and storage security needs. The round shielded design minimizes shackle exposure and deters theft.
The round design of this lock has a narrow opening, just enough to fit on the hasp, with a minimally exposed shackle to prevent cutting with bolt cutters or saws.
Ideal for outdoor applications - the stainless steel body resists rust and corrosion for outdoor use. 
Our brass pin cylinder has mushroom pins and deep key cuts to resist picking.
A variety of key-ways to reduce duplicate key cuts available.
Great for shipping containers, storage units, trucks doors, gates and more.
Peace of Mind and Superior Security
The FJM Security SX-798 disc padlock is an excellent security solution for those who need a lock without weak spots. The shackle is made out of hardened steel and the body is made of stainless steel. Its durable design gives it the ability to stand up to the elements without rusting over time. 
High Security Cam Lock
The SX-798 disc lock brings security with its flat key-way. 
Applications
The SX-798 is the perfect security solution for storage facilities, shipping containers, gates, bikes and more.