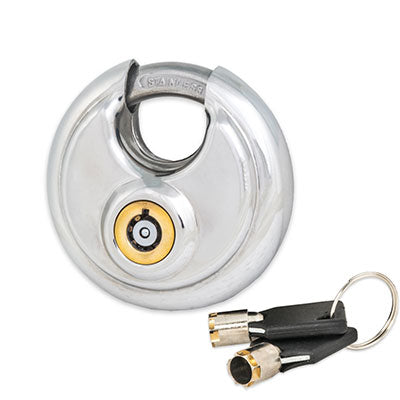 For more Padlocks 4 Less products, click here.
Retail Sales
Padlocks 4 Less SX-796 Round PadlockWith Tubular Keyway
Quantity: In Stock
SKU: SX-796
The perfect solution for those needing robust protection - hidden shackle eliminates vulnerable points on the padlock.
Ideal for outdoor applications - exterior is constructed out of rust resistant stainless steel 
Has a brass tubular keyway with 7 pins – it will resist picking and drilling
Available keyed different so that each lock has it's own unique key code
Great for shipping containers, storage units, trucks doors, gates and more
Round Padlock with Tubular Keyway
Peace of Mind and Superior Security
The FJM Security SX-795 disc padlock is an excellent security solution for those who need a lock without weak spots. The shackle is made out of hardened steel and the body is made of stainless steel. Its durable design gives it the ability to stand up to the elements without rusting over time. 
High Security Cam Lock
The SX-796 disc lock brings increased security with its tubular keyway. It is a seven-pin locking mechanism that will resist picking and the dimple in the center of the lock will keep intruders from drilling into the body.
Applications
The SX-796 is the perfect security solution for storage facilities, shipping containers, gates, bikes and more. Available keyed different - each lock has a unique set of keys.
Specifications
Weight: 0.56 lbs.
Height: 2.75"
Width: 2.75"
Depth: 0.75"
Shackle Clearance: 0.6"