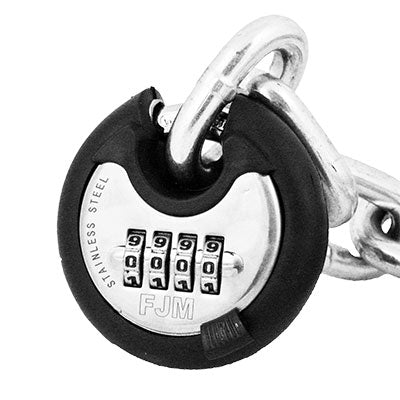 For more Padlocks 4 Less products, click here.
Retail Sales
Padlocks 4 Less SX-792 Combination Disc Padlock With Rubber Cover
Quantity: In Stock
SKU: SX-792
Pricing includes Temporary 15% Tariff Surcharge 
Combination discus lock with a rubber cover is the perfect keyless solution for those needing robust padlock protection - hidden shackle eliminates vulnerable points on the lock

The FJM Security combo lock has an exterior constructed out of rust resistant stainless steel 340 - perfect for outdoor applications in need of reliable protection

This combination lock features a rounded discus shape with a shielded hardened steel shackle designed to resist attacks from slashing, sawing and bolt cutters

Factory default combo for the disc lock is 0-0-0-0 and can be easily reset to the combination of your choice with just a paperclip

FJM Security discus padlock is perfect as a shipping container lock, storage unit lock, gate padlocks, bike padlock, storage locker lock and more!
Disc Padlock with Rubber Cover

Protected Shackle from Bolt Cutters
Heavy duty combination disc padlock is protected from threats of bolts cutters and other intrusive tools because of its unique shape and design. The design allows this discus padlock to be protected while easily fitting on most applications.
Keyless Access
Combination disc padlocks provide the peace of mind of not having to carry around keys. Very easy to use and no keys or special pins needed to change the code. With over 10,000 possible combinations, keep intruders locked out of belongings knowing they are secure.
Applications
The discus security lock is great for storage facilities, public facilities, gates, bikes, and more! Just set the combination, write it down so you don't forget, lock it, and the combination disc lock will do the rest!