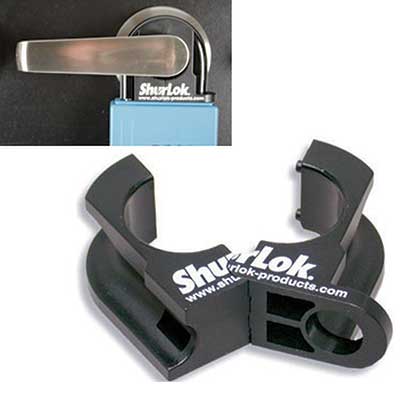 For more Padlocks 4 Less products, click here.
Retail Sales
Padlocks 4 Less ShurLok SL170 Lever Grip For Lockboxes
Quantity: In Stock
SKU: SL170
Lever Grip allows the ShurLok to be secured onto Lever Style doors.
Lever grip that fits a variety of lock boxes
The ShurLok lever grip is made to fit all mechanical lockboxes not just the ShurLok lock box. If you have a dial, punch button, etc. lockbox, this lever grip will work with it. We would love you to use it with a ShurLok but if you already have a different brand no worries! This lever grip will do the trick. However, this real estate lock box lever grip will not work with electronic lockboxes.
Designed to work wonders with lever door handles
With the large amount of lever door handles, this lever grip is the perfect solution to keep your lockbox gripped to the door handle. This ShurLok lever grip works on most styles of door levers but the kind to be aware of is it will not work with commercial grade door levers as they are too thick. Everything else is a great fit! It is designed to open up around the base of the handle and then close and lock around it with the lockbox installed.

Installing the lever grip and the lockbox
To begin, place the lever grip at the base of the door lever with the logo facing forwards. Then, open the shackle of the ShurLok or other lock box 180 degrees and slide it over the lever grip. It is best to come from the right side. Lastly, while everything is in place, lock the shackle and the lockbox will now be secured to the door handle! This ShurLok lever grip is the solution to connect your lockbox to your lever style door handles!