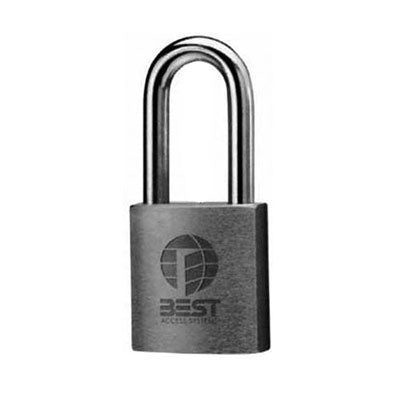 Best 41B772L Padlock Less Core Brushed Chrome Finish
Quantity: In Stock
SKU: 41B772L-626
The 41B772L Best Padlock is a padlock from the company named Best. It is designed with a shackle whose opening is two inches tall when locked. This type of padlock from best is designed to use a key to unlock it. The core which uses a key is additional cost because you have a few options available. This padlock comes without a core, which you would need if you are transferring an old core or would otherwise already have a core. The lock is prepped for a small format interchangeable core, allowing you to easily switch out cores as you need them.
Specifications
Width_ 1 15/16"
Length_ 2 1/16"
Thickness_ 7/8"
Shackle_ The shackle locks at both heel and toe. The length of shackle opening is measured from top of case to inside of shackle when padlock is locked.
Material_ Bronze or stainless steel Diameter_ 3/8"
Width of opening_ 7/8"
ASTM F883_ Meets Grade 4 with stainless steel shackle.
ASTM F883_ Meets Grade 6 for shackle cutting force with XSPL shackle option.
ASTM F883_ Meets Grade 6 for option E. (Corrosion resistance).
The Best 41B772L Padlock comes in a brushed chrome finish.