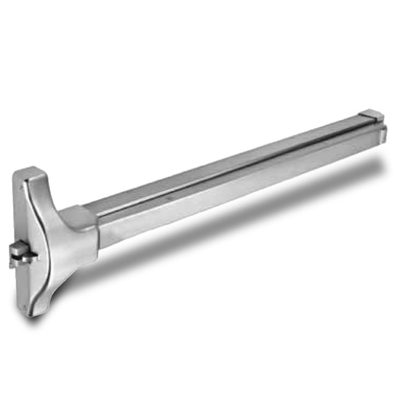 Yale 2150 Panic Bar With Squarebolt 2150-36 689
Quantity: In Stock
SKU: 2150-36 689
The Yale 2150 Panic Bar With Squarebolt 2150-36 689 is a higher security panic device for single and double doors with a mullion between them. The difference between this and a normal panic bar is that the latchbolt is square instead of beveled. This makes a greater amount of pressure required to force open the door. This panic device is for 36 inch wide doors but can be cut down to fit doors as narrow as 30 inches wide.
Features
Patented SquareBolt security deadbolt (Pat. no. 5,605,362) designed for maximum holding power
Designed for wide stile doors
Non-handed for easy installation
Steel interlock "E" bracket maintains door-to- mullion relationship in fire-labeled devices
Specifications
Door Opening Width - 36 for 30" - 36" (76cm - 91cm) doors
Door Thickness - 1-3/4" (44mm) standard. Optional door thicknesses available to 4-1/2"; specify door thickness when ordering.
Minimum Stile Width - 4-1/2" (114mm)
Projection - 2-1/2" (64mm) active, 1-3/4" (44mm) depressed
Deadbolt - Patented 1" (25mm) slide projection bolt with full 3/4" (19mm) projection
Strike - 757F, 793 optional (double door application, panic only)
Fasteners - Machine screws and wood door fasteners standard for panic hardware. Sex nuts and bolts supplied standard for fire exit hardware.
Trims - 121NL cylinder only, 210F series utility trim, 440F series rose trim, 580F
series rose trim with escutcheon plate, 620F series escutcheon trim, 630F series pull/thumbpiece trim. See pages 13-15.
Dogging - Hex key dogging supplied standard on panic devices
Options - Shim kit #223, sex nuts and bolts, MicroShield®
The Yale 2150 Panic Bar With Squarebolt 2150-36 689 comes in the painted aluminum finish.