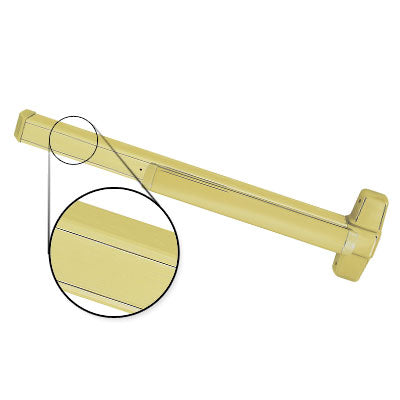 Von Duprin QEL98EO 3 US4 Brushed Brass Finish Three Foot Quiet Electric Latch Retraction Panic Bar Exit Only
Quantity: In Stock
SKU: QEL98EO 3 US4
The Von Duprin QEL98EO 3 US4 Brushed Brass Finish Three Foot Quiet Electric Latch Retraction Panic Bar Exit Only is currently available.
The 98 and 99 series exit devices from Von Duprin are for all types of single doors and double doors with a mullion. They are installed across the inside of a door to allow for egress during panic situations, where the door will operate by pushing against the bar. The 98 series panic bars have a smooth mechanism case while the 99 series has a grooved mechanism case. This rim device is non-handed, which means it can be installed on doors that swing either left or right. These devices are ANSI A156.32014 rated and considered Grade 1 door hardware.
The Quiet Electric Latch Retraction feature allows for bolt retraction via a switch. This converts the exit door it is installed on to a push-pull operation for entry.
The exit only function panic bar does not come with any trim hardware for the exterior of the door. If installed, it will only allow egress through the door without reentry. Trim must be purchased separately. 
This hardware is not fire rated and may not be used on a fire door.  
This Von Duprin series quiet electric latch retraction panic bar comes in a brushed brass finish.