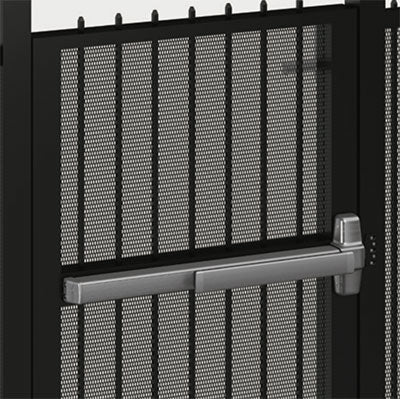 NOTE: Please call for quantity discounts.
Von Duprin
VD 9852EO 3 US26D

Pool Gate Panic Bar
Quantity: In Stock
SKU: VD 9852EO 3 US26D
The Von Duprin 9852EO Pool Gate Panic Bar is now available.
There are specific areas such as pools that require a different kind of hardware on the gates surrounding them than a regular door or gate. You want everyone to be able to get out of the pool area, but you do not want children to be able to operate the hardware to let themselves into a pool area. For a pool gate panic bar, the handle trim is not at the same height as the panic bar, but above it. Regulation requires the handle to be at least 54 inches above the ground or floor. The panic bar itself needs to be mounted 36-48 inches from the ground. A cable concealed within the gate allows the two pieces to operate together.
The 9852EO panic bar comes with a smooth mechanism case. The product is UL listed for panic exit hardware, certified to ANSI/BHMA 156.3 2014, Grade 1, and is compliant to ADA 1010.1.9 door operations.
The Von Duprin 9852EO Pool Gate Panic Bar comes in either a brushed chrome or a dark bronze finish.