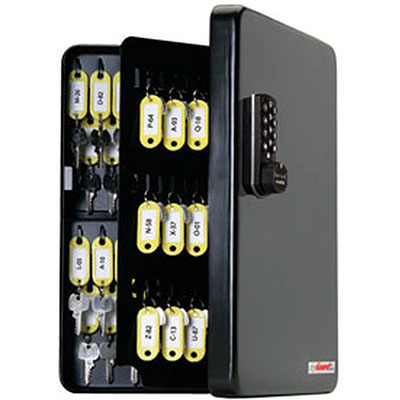 For more Padlocks 4 Less products, click here.
Retail Sales
Padlocks 4 Less SL-9122-R KeyGuard Key Cabinet With 122 Hooks With RFID Keycard Access
Quantity: In Stock
SKU: SL-9122-R
Constructed out of 16 gauge steel and is suitable for indoor and outdoor use
Organize your keys with the 60 blue, red, black & yellow key tags that ship with the KeyGuard
Enjoy keyless access to your KeyGuard with the Combi-Cam E RFID lock
Access your keys with 2 provided RFID cards – One at the master level and another at the user level
Mounting hardware included with the KeyGuard for quick and painless installation
RFID Key Cabinet
Simplified Key Storage
Simplify your key management system with the efficiency of RFID card access. The Combi-Cam E lock comes installed on the KeyGuard key cabinet and gives users the option of either opening the cabinet with the RFID card or an alphanumeric punch button code. The lithium battery will also lower your long term maintenance costs with its 10 year battery life.
RFID Lock Flexible Programming Options
Program a master card and subsequent user cards
Create one-time-use operation for temporary access
Set individual user access for each card
See the instructions PDF below for more information on how to program the RFID access cards
Push Button Programming Options
Master – 6 digits
Service – 5 digits
User – 4 digits
Included with Key Cabinet
122 Hook RFID Key Cabinet
2 RFID Access Cards
24 Colored Key Tags
Mounting Hardware
Specifications
Height: 9-7/8"
Width: 7-3/8"
Depth: 2-7/8"
Weight: 3.8 lbs