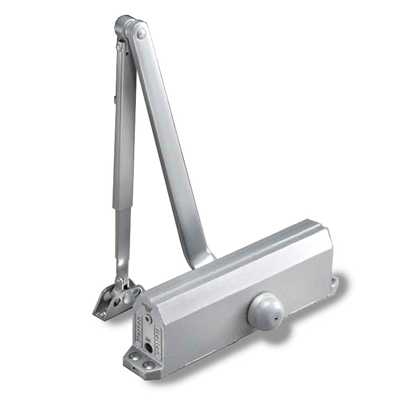 Norton 1601 H Hold Open Door Closer
Quantity: In Stock
SKU: 1601 H ALUM
The Norton 1601 H hold open door closer is designed to slow the closing speed of the door it is installed on.
This door closer has a hold open function, which will hold the door open until you pull it closed.
The hold open function can be used by opening the door until the arm of the door closer is fully extended. At that point you can let go of the door and it will stay open The Norton 1601 class are designed to exceed 10 million uses and are non-handed. That means that you can install it on a door that swings out to the left or the right.
Features
Exceeds 10 million cycles of use
Non-handed
rack and pinion design
Cast aluminum body
2-7/8" (73mm) projection
1-3/8" (35mm) diameter piston
5/8" (16mm) diameter pinion journals
Standard, separate and independent, latch, sweep and backcheck intensity valves
Tri-Style� packaging (regular arm, top jamb and parallel arm mounting)
All standard arm applications allow doors to swing 180�, conditions permitting
Compliance Standards
ANSI/BHMA A156.4, Grade 1 certified
UL listed
UL10C compliant for positive pressure
A.D.A. compliant (1601BF)