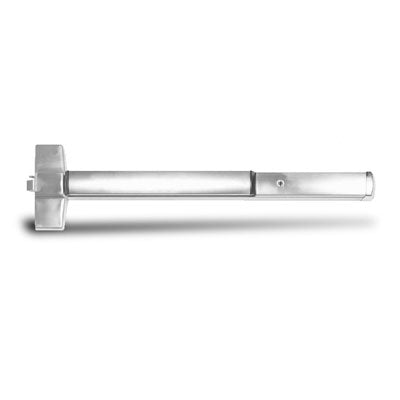 Corbin Russwin Panic Device With Rex Switch ED5200 630 M92
Quantity: In Stock
SKU: ED5200 630 M92
The Corbin Russwin Panic Device With Rex Switch ED5200 630 M92 is a grade 1 panic bar meant for single doors and double doors with a separating mullion. This type of exit device is meant to allow people to exit quickly during times of emergency with simple pressure against the door. A REX function panic bar, or request to exit, gives indication that the pushpad is being depressed on the device. This indication can be used to shunt alarms, release electromagnetic locks or even monitor the use of the exit. This device is meant for 36 inch wide doors, but can be cut down to fit doors that are 30 inches wide.
Features
Electrical Specifications - Requires 782 Controller (120VAC input, output sequencer for one or two devices). No substitutes; using other power sources voids warranty. Requires a 4-wire electrical transfer pivot or hinge.
Touchbar Monitoring - M92 Request to Exit - REX Provides indication of the pushpad being depressed. Used as a request to exit to shunt alarm systems, release electromagnetic locks or monitor egress.
Handing - Standard device is non-handed. Double Cylinder Device is Handed. Lever trim is handed.
Bar Length - Easily field cut to size. Standard: 36" (914mm) bar fits 30"- 36" (762mm-914mm) door.
Door Thickness - 1-3/4" (44mm) standard. Optional: 2" (51mm); specify D200. Optional: 2-1/4" (57mm); specify D214.
Stile - Minimum width 4-1/2" (114mm).
Latchbolt - 3/4" (19mm) throw, stainless steel pullman- type with stainless steel deadlocking latch.
Materials - Heavy-duty cold-forged steel chassis; heavy- gauge steel mechanisms, electroplated for corrosion resistance; finished parts are brass, bronze or stainless steel; stainless steel springs; nylon bearings.
Projection - 3-1/4" (83mm) active, 2-3/4" (70mm) dogged.
Dogging - Standard on panic devices; single-point 1/4 turn hex key dogging. Optional: less dogging, specify M51. Optional: cylinder dogging; specify M52. Optional: electric dogging; specify M97. Mechanical dogging not available on fire- rated devices.
Fasteners - Standard on panic devices: machine screws and wood door fasteners. Standard on fire- rated devices: sex nuts and bolts. Optional on panic devices: sex nuts and bolts for use on wood, composite, or unreinforced metal doors; specify M54. Optional wood screws for use on approved fire-rated solid wood or wood core doors. Specify M64.
The Corbin Russwin Panic Device With Rex Switch ED5200 630 M92 comes in a stainless steel finish.