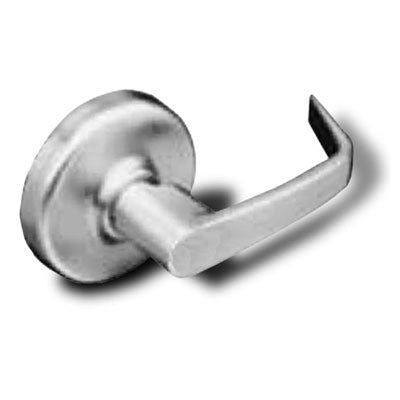 Corbin Russwin Lever Trim Dummy Function N650 626
Quantity: In Stock
SKU: N650 626
The Corbin Russwin Lever Trim Dummy Function N650 626 is an exit trim that is meant to be used with the ED8000 series of panic bars. It is installed on the outside of the door that the panic hardware is on and allows people to come in through the door. This is a dummy function lever which means that turning the handle will not activate anything in the lock. It is simply a handle that a person can grab onto. This lever trim does not have a lock itself. Entry is only allowed if the panic bar is dogged open.118
Features
Dimensions - Rose is 3 1/2" diameter. Handle length is 4 5/8". Projection from door is 2 13/16".
Materials - Rose is wrought brass or bronze, lever is die cast zinc.
Function - Dummy function.
Finishes - comes in a satin chrome finish.
</ul. The Corbin Russwin Lever Trim Dummy Function N650 626 comes in the satin chrome finish.