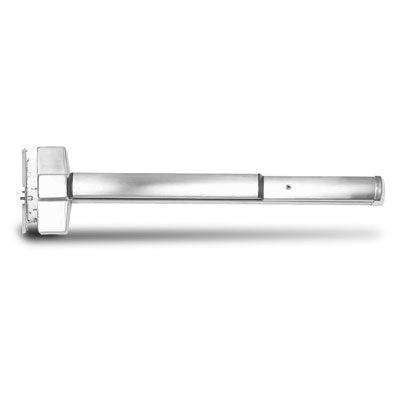 Corbin Russwin Mortise Exit Device Right Hand Reverse ED5600L 630 RHR
Quantity: In Stock
SKU: ED5600L 630 RHR
The Corbin Russwin Mortise Exit Device Right Hand Reverse ED5600L 630 RHR is a panic bar that includes a mortise lock for greater security while still offering the ease of exiting required by fire codes. Because of the mortise function, this panic bar is handed and is meant for doors that are right hand reverse. Please check the diagram above the order button on this page for explanation. This panic bar is meant for 36 inch wide doors, but can be cut down to fit doors as narrow as 30 inches across.
Features
Handing - Device is non-handed. Mortise lock body is handed, but field reversible. Lever trim may be handed.
Bar length - Easily field cut to size. Standard: 36" (914mm) bar fits 30"- 36" (762mm-914mm) door.
Door Thickness - 1-3/4" (44mm) standard. Optional: 2" (51mm); specify D200. Optional: 2-1/4" (57mm); specify D214.
Stile - Minimum width 4-1/2" (114mm).
Latchbolt - 2-piece mechanical, 3/4" (19mm) throw, stainless steel with auxiliary deadlocking latch.
Materials - Heavy-duty cold-forged steel chassis; heavy- gauge steel mechanisms, electroplated for corrosion resistance; finished parts are brass, bronze or stainless steel; stainless steel springs; nylon bearings.
Projection - 3-1/4" (83mm) active, 2-3/4" (70mm) dogged.
Dogging - Standard on panic devices; single-point 1/4 turn hex key dogging. Optional: less dogging, specify M51. Optional: cylinder dogging, specify M52. Optional: electric dogging; specify M97. Mechanical dogging not available on fire- rated devices.
Fasteners -

Standard on panic devices: machine screws and wood door fasteners. Standard on fire-rated devices: sex nuts and bolts.
Optional on panic devices: sex nuts and bolts for use on wood, composite, or unreinforced metal doors; specify M54. Optional wood screws for use on approved fire-rated solid wood or wood core doors. Specify M64.

Strike - Non-handed. ANSI curved lip standard. 4-7/8" x 1-1/4" x 1-1/4" lip to center. Optional strikes available.
Functions and Trims - Through-bolted lever, knob, pull and thumbpiece trims available with wide range of functions.
The Corbin Russwin Mortise Exit Device Right Hand Reverse ED5600L 630 RHR comes in the stainless steel finish.