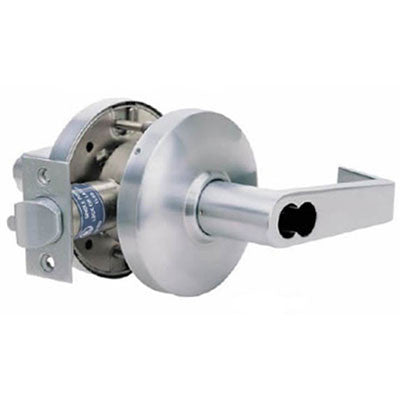 Cal Royal ICGYS05 US26D IC Storeroom Function Lock Set
Quantity: In Stock
SKU: ICGYS05 US26D
The Cal Royal ICGYS05 US26D IC Storeroom Function Lock Set is a Genesys series lockset with an interchangeable core. These interchangeable cores are designed to be quickly removed and replaced, allowing for quick rekeying of the lock when needed. This type of lock is rated Grade 1. It is meant for heavy traffic areas such as frequently used storeroom doors and other interior doors. This is a storeroom function lock. That means that it can be opened by key from the outside or by turning the lever on the inside. The door always remains locked from the outside and the lever on the outside will not rotate.
SPECIFICATIONS:
GENERAL SPECIFICATIONS -

Full length 4-3/4" lever handle with 3/8" return on GN and SPA Design. Rose diameter 3-1/2". Key removable outside lever for fast rekeying. Non-handed levers. Concealed mounting screws.

CLUTCH -

Free turning handle in the lock position without retracting the latch, to deter breaking of handle.

APPLICATIONS -

For offices, schools, hospitals, apartments, hotel/motel, residential, commercial and public buildings.

DOOR RANGES -

1 3/8" to 1 3/4" thickness. 2" to 2 1/4" thickness also available on request.

HOUSING -

Cold Rolled Steel and Zinc Dichromate finish for rust resistance with precision cast steel retractor. 2 1/8" diameter bore.

STRIKES -

ASA 1 1/4" x 4 7/8" standard. Other strikes available upon request.

TRIM -

Thru-bolted assembly through door with separate spring cage for each lever.

ANSI STANDARDS -

Meets or exceeds BHMA/ANSI A 156.2 Series 4000, grade 1 requirements. Exceeds 1,000,000 cycles.

LARGE FORMAT INTERCHANGEABLE CORE (IC) -

Interchangeable Core locks will accept compatible 6 or 7 pin cores with Corbin/Russwin and 6 pin cores with Sargent, Yale & Schlage large format cylinder.

LATCH OPTIONS -

2 3/4" standard, brass with 1/2" throw. 2 3/8", 3 3/4" and 5" backset optional. GND750 deadlatch reversible for flat and beveled door. 3/4" throw anti-friction deadlatch for pair of fire doors.

ELECTRIFIED LOCKS, TACTILE & LEAD LINING -

available upon request.

LATCH FACEPLATE -

Standard 2 1/4" x 1 1/8" for 2 3/4" backset. Optional 2 1/4" x 1" for 2 3/8" backset.
The Cal Royal ICGYS05 US26D IC Storeroom Function Lock Set comes in a brushed chrome finish.