If this is not the exact lock you're looking for, please click the

chat box below in orange

or call us at 1-800-508-6889.
We have inventory from 107 different manufacturers and we can help you find the lock you need.
Dave Jabas, The Door Lock Guy for
41
years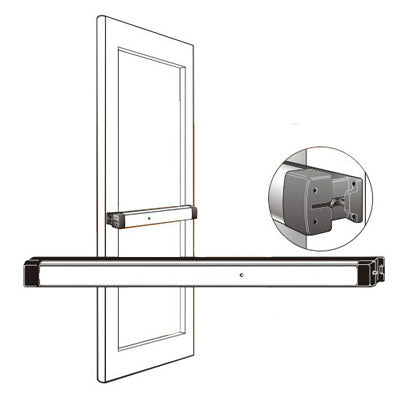 Adams Rite
8801

Panic Bar
Quantity: In Stock
SKU: 8801
The Adams Rite 8800 Series Panic Bar is a narrow stile rim exit device for aluminum doors. It comes in 36" and 48" length to accommodate all standard doors, and is easy to install. This panic bar is meant for use on single doors, but not double doors. It can be dogged down using a hex key for continuous access during a period of time. 
Starwheel Bolt

The interlocking noseguard and Starwheel bolt close around the strike when the door closes. The deadlocking slide will spring over, locking the Starwheel bolt to the strike. When the pushbar is depressed, the deadlocking slide moves back, allowing the door to unlock from the strike. This unique interlock provides solid security and prevents jamb spreading. Strikes

Standard strike narrow version for centering doors in 4" jamb (both strikes are included).
Features:


Pushbar is anodized or clad, not plated, in a variety of finishes
Patented "Starwheel" bolt interlocks door to frame
Easy to install
Unobtrusive design for clean sight lines
Strong, durable construction for a high level of security

Certifications:
UL Life-Safety Listing
ANSI/BHMA A156.3 Grade 1
California State Fire Marshall
New York City MEA
Electric Latch Retraction
The EL option uses a solenoid mounted in pushbar for instantaneous unlocking and locking of the exit device from a remote location or access control device. Because electrical operation of device is fail-secure, this option can be used on fire-rated as well as life-safety applications. In the event of a power failure device automatically relocks. Rim devices are available in 12 or 24 VDC and can be powered with a simple transformer and rectifier or other DC power supply.