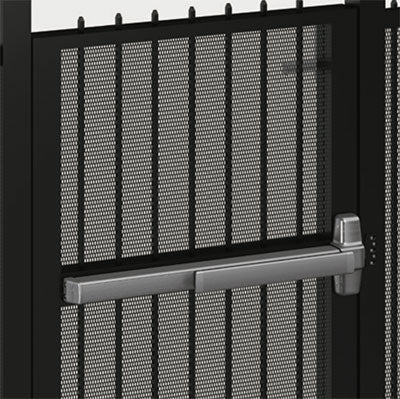 Keeping Kids Safe From Drowning
August 17, 2020
Gate manufacturers are working hard to keep kids safe.
There are some areas surrounded by fences and gates that need to restrict specific people from entering. For approved access, you might use a key or keycard that will allow the operation of the latch and gate. For operational hours, you might used a timed electrical system. Pool areas pose a different kind of challenge, because you want to limit access by age. Pools can be very dangerous areas for children, even if they are fun.
The solution developed by Von Duprin is the
9952L Pool Gate Panic Bar
. It has the exterior trim installed at 54 inches above the ground, keeping small children from even reaching the hardware, let alone operating it. With the interior panic hardware still installed 34 inches to 48 inches above the ground, this still allows for emergency egress as well.
The Von Duprin 9952 Pool Gate Panic Bar is still UL listed for panic exit hardware, and certified to ANSI/BHMA A156.3 2014 to be Grade 1. It is also complaint with the 2010 American Disabilities Act standards for accessible design.
With these hardware solutions, kids can be kept away from pools when not under supervision. Enjoy the warm weather and fun at the pool.
To view or purchase a pool gate panic bar, you can click the link below or call our experts at 1-800-508-6889.
Von Duprin 9952 Pool Gate Panic Bar
Posted in New By David Jabas