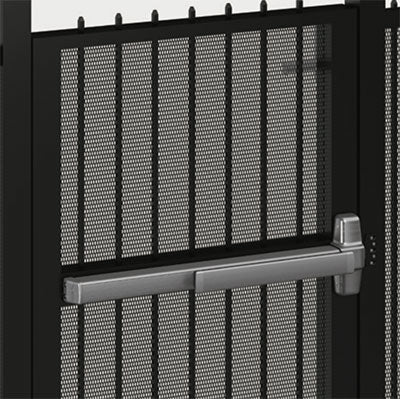 How A Pool Gate Panic Bar Works
August 18, 2020
Most panic bars require the inside and the outside components to be mounted at the same height. There are metal rods or tailpieces that connect the trim to the panic bar through the door. This allows the lever on the outside of the door to operate the latch of the panic bar. This works for almost all doors, but not for all gates.
When needing to keep certain areas inaccessible to kids, the solution was to have the lever trim on the outside of the door be out of reach of small children. This is especially important in securing swimming pools. The problem was the connection between the panic bar and trim needed to be reengineered.
The
Von Duprin 9852L
Pool Gate Panic Bar was designed to meet these needs. A connecting cable mechanically transfers the motion vertically needed to have the trim activate the latch. This customized hardware solution allows for the outside release mechanism to be over 54 inches off the ground while retaining the mounting height requirement of 34 to 48 inches for the panic hardware.
To view or purchase a pool gate panic bar, you can click the link below or call our experts at 1-800-508-6889.
Von Duprin 9852 Pool Gate Panic Bar
Posted in New By David Jabas