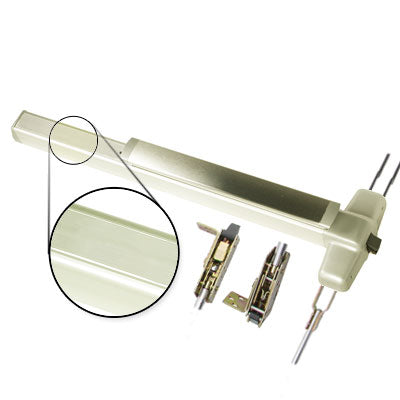 Von Duprin
9847EO 3 US15

Concealed Vertical Rod Panic Bar Exit Only
Quantity: In Stock
SKU: 9847EO 3 US15
The Von Duprin 9847EO Concealed Vertical Rod Exit Device is for use on double or single metal doors. It is designed to latch into the top and bottom of the door frame instead of on the non-hinged edge as a standard panic bar does. The vertical rods of this device are concealed inside the body of the door, unlike the 9827 vertical rod panic bar whose rods rest on the surface of the door.
This panic exit device is Exit Only, which means that it does not come with any outside trim. This is just the panic bar.
This panic bar is UL listed for Panic Exit Hardware. Devices are ANSI A156.3 - 2001 Grade 1. The 9847 CVR exit device has a smooth mechanism case as opposed to the 9947 device, which has a grooved case. The concealed vertical rod device is non-handed except when the following device options are used: SD (Special Dogging), or SS (Signal Switch).
The 9847 devices are available in the following lengths: 36 inches for doors from 2'4" to 3' in width and 48 inches for doors from 2'10" to 4' in width.
The 9847 devices are available in the following finishes: US3, US4, US10, US15, US26, US26D, US28, US32D, 313, and 315.
If you have any questions about this product, please call us at 1-800-508-6889.
Specifications
Device Functions:
Device ships EO/DT/NL. Field selectable. For TP, K or L remove NL
drive screw from device.
Device Lengths:
2' - 2' (610mm) Door Size (shipped less UL label)
3' - 2'4' to 3' (711mm to 914 mm) Door Size
4' - 2'10" to 4' (864 mm to 1219 mm) Door Size
Device Centerline from Finished Floor:
39 5/8" (1006 mm) Standard
Adjustable from 35 5/8" (905mm) to 49 5/8" (1260mm)
Center Case Dimensions:
8" x 2 1/4" x 2 3/8" (203mm x 70mm x 60mm)
Mechanism Case Dimensions:
2 1/4" x 2 1/4" (57mm x 57mm)
Projection:
Pushbar Neutral 3 13/16" (97 mm)
Pushbar Depressed 3 1/16" (78 mm)
Latch Bolt:
Deadlocking Top and Bottom Bolt, 5/8" (16mm) throw
Door Undercut:
1/4" (7mm) maximum
Top and Bottom Latch Case:
4 1/2" x 2 1/8" x 1 1/2" (114mm x 54mm x 38mm)
Vertical Rods:
Round 2-piece adjustable rods - Top rod adjustable from 6'8" (2027mm) to 8'4"(2533mm). Bottom rod adjustable 35 5/8" (905 mm) to 49 5/8" (1260 mm). Extension rod kits available for doors over 8'4" (2533mm).
Fasteners and Sex Bolts (SNB):
Includes screw pack for 1 3/4" (44mm) and 2 1/4" (57mm) thick metal
doors. Optional 425 SNB available.