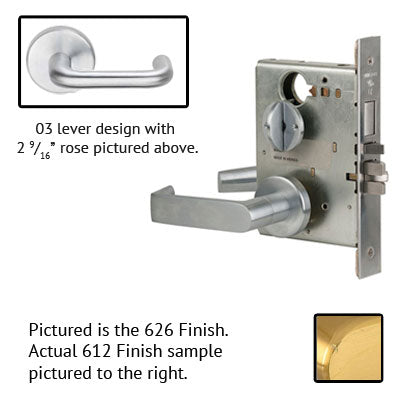 Schlage L9453P 03B 612 Brushed Bronze Finish Entrance Lever Mortise Lock With Cylinder
Quantity: In Stock
SKU: L9453P 03B 612
The Schlage L9453P 03B 612 Brushed Bronze Finish Entrance Lever Mortise Lock With Cylinder is currently available.
The Schlage L-Series Extra Heavy Duty Mortise Locks are built to withstand the rigors of daily use without fail. Our L9000 Series locks are ideal for use in schools, hospitals and factories, where the finest hardware must also deliver consistent, dependable operation and stand up to constant use and abuse. We pay attention to these details so you can focus on creating a functional and aesthetically pleasing environment for your clients. In fact, every one of our L-Series locks meets ANSI Grade 1 standards for safety. A multitude of functions, finishes and trim designs are available to meet virtually every security and aesthetic requirement.
An entrance function lock will retract the latchbolt by the lever from either side unless outside is locked by a 20 degree rotation of the thumbturn. The deadbolt is thrown or retracted by a 90 degree rotation of the thumbturn. When locked, a key from the outside or the lever inside retracts the deadbolt and latchbolt simultaneously. The outside lever remains locked until the thumbturn is restored to vertical position. Throwing the deadbolt automatically locks the outside lever. Auxiliary latch deadlocks latchbolt when door is closed. Inside lever is always free for immediate egress.
This Schlage L9000 series lever mortise lock comes in a brushed bronze finish.