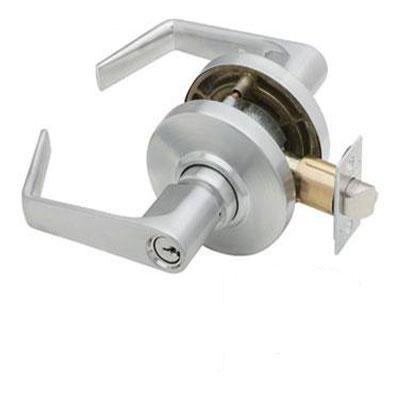 Schlage AL80PD SAT 626AM Antimicrobial Storeroom Function AL Series Saturn Lever Grade 2 Lock With Cylinder Brushed Chrome Finish
Quantity: In Stock
SKU: AL53PD SAT 626AM
The Schlage AL80PD SAT 626AM Antimicrobial Storeroom Function AL Series Saturn Lever Grade 2 Lock With Cylinder Brushed Chrome Finish are known for offering dependable performance for high traffic commercial applications. AL Locks are designed to deliver ADA Compliant accessibility and constant, reliable performance. The Al Series is best for buildings with medium to high traffic flow, such as interior office doors, banks, retail spaces and hotel guest areas.
Locks with an antimicrobial finish are coated with an IFS silver antimicrobial additive that inhibits enzyme activity and the multiplication of microbes. When microbes can't multiply, they die out quicker, keeping the lock from being a breeding ground for microbes. 
This lock is a storeroom function lock. The lockset can be opened by a key from the outside of the door, but always remains locked. The door cannot be locked or unlocked from the inside of the door. The lock will always allow you to exit through the door.
Specifications:
Handing: Non-handed.
Door Thickness: 1 3/8" to 1 7/8" (35 mm to 48 mm) standard. 2" (51 mm) optional.
Backset: 2 3/4" (70 mm) standard. 2 3/8" (60 mm), 3 3/4" (95 mm) and 5" (127 mm) optional.
Front: Steel. 2 1/4" x 1 1/8" square corner, beveled, for 2 3/4" backset standard. Optional 1" square corner, 1" radius corner, and non-UL drive-in / round face. For availability with specific backsets.
Lock Chassis: Steel, zinc dichromated for corrosion resistance
Latch Bolt: Brass, chrome plated, 1/2" throw, deadlocking on keyed and exterior functions.
Exposed Trim: Wrought brass and bronze. Levers are pressure cast zinc, plated to match finish symbols.
Strike: ANSI curved lip strike 4 7/8" x 1 1/4" x 1 1/4" lip to center standard. Optional strikes, lip lengths and ANSI wrought strike box available.
Cylinder & Keys: 6-pin patented Everest 29 S123 keyway standard with two nickel silver keys per lock.
Keying Options: Interchangeable core and Primus high security cylinders. Master keying, grand master keying, and construction keying.
Certifications:
ANSI: Meets or exceeds A156.2 Series 4000, Grade 2 strength and operational requirements. Meets A117.1 Accessibility Code.
Federal: Meets FF-H-106C.
California State Reference Code: (Formerly Title 19, California State Fire Marshal Standard) All levers with returns comply; levers return to within 1/2" of door face.
UL / cUL: All locks listed for A label single doors, 4" x 8". Letter F and UL symbol on latch front indicate listing.
.The 
Schlage AL80PD SAT 626AM comes in a brushed chrome finish.