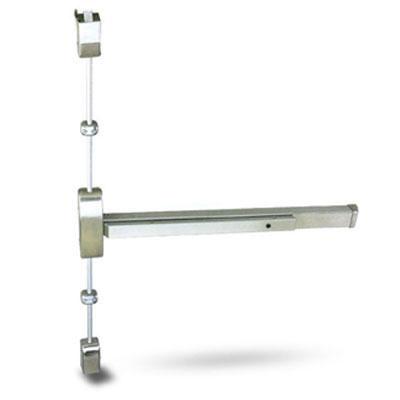 Cal Royal F9850V36120 US10 RHR Brushed Bronze Finish Fire Rated Vertical Rod Panic Bar Exit Only
Quantity: In Stock
SKU: F9850V36120 US10 RHR
When choosing the right panic bar there are many things to take into consideration. Door size, door handing, single door, double door, fire rated, non-fire rated, What type of outside trim to you need? Our experts are here to help make it easier. Give us a call: 1-800-508-6889 The Cal Royal 9860 panic bar vertical rod exit device is designed to fit a double door application. This device allows each door to operate independently with the use of the latch at the top and the bottom of the door Easily installs on most1 _ inch thick wood and hollow metal doors. This exit device will work on wood or steel doors with glass or light kits. The minimum stile needed for proper installation is 3 1/2 inches. Shim kits are also available to allow for molding around light kits. This is a grade 1 heavy-duty vertical rod exit device Available as fire rated or non-fire rated. Must specify handing of door at time of order. For outside trim we recommend ESC 9800 Model 9860 fits 36 inch x 84 inch doors Model 9890 fits 36 inch x 96 inch doors Model 9880 fits 48 inch x 96 inch doors Alarm kits can be added to these exit devices Standard finishes US 32D stainless steel
Suggested Architect's Specifications
All exit devices shall be of touch bar design with smooth operation and be operative over 2/3 of the door's clear opening width
All exit devices must be listed under "Panic Hardware" in the Accident Equipment List of Underwriters' Laboratories, Inc. Where labeled doors are used as exits, they must be equipped with labeled Fire Exit Hardware and UL10C, UBC 7-2-1997 codes.
All springs shall be of stainless steel throughout.
All exit devices shall be of chassis mounted unit construction.
All exit devices shall be ANSI A156.3, Grade 1.
Features and Construction
For use in institutions, schools, universities, commercial buildings where heavy duty reliable operation is a requirement.
ANSI A156.3, Grade 1 heavy duty exit device in surface vertical rod and rim designs.
Rail assemblies and end caps are brass, bronze or stainless steel and rail travels in direction of the door swing.
Trims are thru bolted for additional security.
Conforms & Meets ADA Regulations.
UL Listed for Panic and ULC10C, UBC 7-2-1997 codes.
UL Listed for Fire Exit Hardware. 3 hours.
(A) label rating on pairs of doors up to 8'0" x 8'0" swinging in same or opposite directions.
Uncompromising security and safety in single and double fire exit doors.
Chassis mounted unit construction. Rim and vertical rod devices are nonhanded and easily reversible.
Available in many different functions. Lever and escutcheon trims are Grade 1 construction with clutch on rose trims. Escutcheon trims are rigid and covers 161 cut out.
Specifications
For Doors - 1-3/4" thick standard optional 2-1/4" thick. 3-3/4" minimum stile width required for single door application. 3-1/2" minimum stile width required for double door application. Lever, thumbpiece and escutcheon trims available. 2-3/4" backset.
Chassis - Nonferrous alloy (Panic Grade), steel (Fire Grade)
Cover - Brass, Bronze or Stainless Steel.
Mounting - Furnished with wood and machine screws. Thru bolts are standard packaging on fire rated devices.
Alarm - Available. Prefix "NALRM" before part #.
End Cap - Brass, Bronze or Stainless Steel Construction.
Hand - Handed. Easily field reversible. Specify at time of order LHR, RHR for convenience.
Latch Bolt, Spring - Stainless Steel.
ANSI Standard - A156.3, Grade 1.
Rail Assembly - Heavy gauge Brass, Bronze or Stainless Steel.
Strike - See strike page.
Dogging Feature - Allen-type key furnished standard on non-fire labeled devices. Cylinder dogging available.
UL and ULC Listed - 9860 Series for panic. F9860 Series for fire exit hardware for all types of 8' x 8' double doors for up to 3 hour fire labeled installations, conforms to standards UL10C and UBC 7-2-1997 codes.
Electronic Functions - (ELR) Electrical Latch Retraction and RX & LX Signal Switch available.
Finish - Architectural plated finishes.