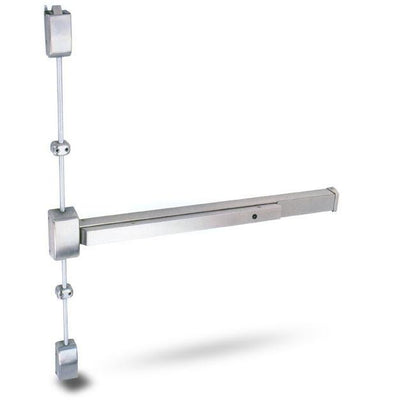 Cal Royal F2210V2484 RHR ALUM Aluminum Finish Fire Rated Vertical Rod Panic Bar Exit Only
Quantity: In Stock
SKU: F2210V2484 RHR ALUM
Cal Royal 2260 vertical rod panic hardware offers a great cost-effective solution for securing double doors. It will fit on most wood and steel doors, including doors with windows within the door. The minimum stile required to accommodate this exit device is 3 1/2 inches. This device is easy to install and is available with outside lever trim. Installing this exit device with the outside lever trim will cover a standard cylindrical lock prep. The 2260 is a grade 1 device It is available in a fire rated and non-fire rated device Must specify hand of door.  Please check handing diagram above to determine handing of the door. Available in three finishes are aluminum, dark brown and painted gold Alarm kit can be added to enunciate unauthorized egress This panic hardware is available for the following size doors 2260 V3684 fits a 3' x 7' door 2290 V3696 fits a 3' x 8' door 2280 V4896 fits a 4' x 8' door
Features and Construction
Retrofits Sargent 12-2828 and 12-2838 Series
ANSI A156.3, Grade 1 heavy duty exit device in surface vertical rod and rim designs.
UL Listed for Panic and UL10C, UBC 7-2-1997 codes.
UL Listed for Fire Exit Hardware. 3 hours.
Conforms & Meets ADA Regulations.
(A) label rating on pairs of doors up to 8' x 8' swinging in same or opposite directions.
Uncompromising security and safety in single and double fire exit doors.
Chassis mounted unit construction.
Available in many different functions. Lever and escutcheon trims are Grade 1 construction with clutch on rose trims. Escutcheon trim are rigid and covers 161 cut out.
Suggested Architect's Specifications
All exit devices shall be of touch bar design with smooth operation and be operative over 2/3 of the door's clear opening width.
All exit devices must be listed under "Panic Hardware" in the Accident Equipment List of Underwriters' Laboratories, Inc. Where labeled doors are used as exits, they must be equipped with labeled Fire Exit Hardware and UL10C, UBC 7-2-1997 codes.
All springs shall be of stainless steel throughout.
All exit devices shall be of chassis mounted unit construction.
All exit devices shall be ANSI A156.3, Grade 1.
Specifications
For Doors - 1-3/4" thick standard optional 2-1/4" thick. 3-3/4" minimum stile width required for single door application. 3-1/2" minimum stile width required for double door application. Lever trims available. 2-3/4" backset.
Chassis - Non-ferrous alloy (Panic Grade), steel (Fire Grade)
Cover - Non-ferrous alloy. Covers stock hollow metal doors with 161 cutout.
Mounting - Furnished standard with wood and machine screws. Thru bolts are standard packaging on fire rated devices.
Alarm - Available. Prefix "NALRM" before PART #.
End Cap - Steel construction.
Hand - Handed. Easily field reversible. Specify at time of order LHR, RHR for convenience.
Latch Bolt, Spring - Stainless steel.
ANSI Standard - A156.3, Grade 1.
Rail Assembly - Heavy gauge steel, painted.
Strike - See Strike page.
Dogging Feature - Allen-type key furnished standard on non-fire labeled devices.
UL and ULC Listed - 2260 Series for panic. F2260 Series for fire exit hardware for all types of 8' x 8' double doors for up to 3 hour fire labeled installations, conforms to standards UL10C and UBC 7-2-1997 codes.
Electronic Functions - (ELR) Electrical Latch Retraction and RX & LX Signal Switch available.
Finish - Aluminum (Alum), Dark Bronze Durodonic (Duro), Gold.