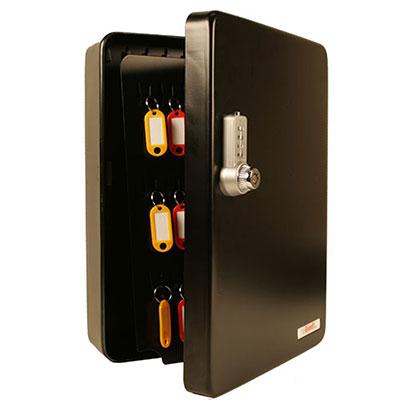 Padlocks 4 Less SL-8548-U KeyGuard Key Cabinet With 48 Hooks With Ultra Combi-Cam
Quantity: In Stock
SKU: SL-8548-U
The Ultra Combination Key Safe is the first key cabinet to offer a Managerial Key and Dual Access Flexibility. The Managerial key allows the manager sole access with the key and gives combination out to employees. This allows the manager to change the combination at any time. Key override allows for code discovery for the current combination. The Managerial key uses a high security tubular key way. Dual access flexibility allows for either key or combination access.
Key Storage Cabinet
Why Use Keys To Access Your Keys?!
Enjoy the security and convenience of accessing your keys through the dependable Combi-Cam Ultra lock. With over 10,000 possible combinations, create your own secure combination that is accessible by only the people you want getting into your key storage box. A dual access manager key allows entree even if the combination is forgotten—it's able to discover the code and then reset it. Never be locked out by gaining access when you need it and remove the hassle of carrying around extra keys just to access more keys!
Heavy Duty Secure Combination Key Safe
The KeyGuard Combination Key Safe is made out of heavy-duty 16 gauge steel making it a durable and reliable product. It has a continuous piano hinge and steel hooks which means no flimsy plastic pieces breaking off and falling apart. This combination key cabinet is built to last and do the job of securing and storing keys the right way. These key cabinets come in high capacity 48 hook or 122 hook options providing the choice for small or large key storage.
Accessories for Additional Use
Want to secure your new Combination Key Safe to the wall? No problem! Wall mount supplies are included to make installing and accessing the keys as easy as possible. Key tags are also included to make organization a breeze when storing away multiple keys that truly need easy identification. The 48 hook model comes with 24 colored tags and the 122 hook model comes with 60 colored tags.
Setting the Lock
Easily set the combination by holding in the reset button and rolling the dials to a new combination. The combination can be changed at any time. These combination locks have been tested over time with none of the reliability issues seen in plastic punch button lock systems. Specifications: · Height: 14-1/8" · Width: 10-1/2" · Depth: 3-1/2"