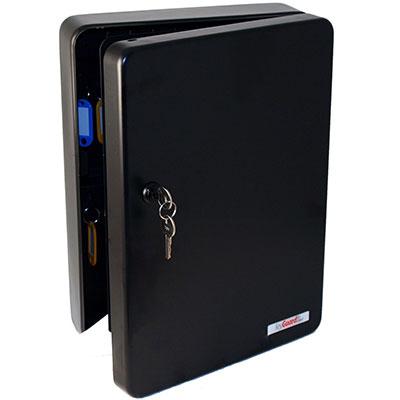 Padlocks 4 Less SL-8548-KB KeyGuard Key Cabinet With 48 Hooks With Keyed Black Lock
Quantity: In Stock
SKU: SL-8548-KB
Securely manage keys! 122 high capacity hooks inside the solid Steel keybox gives plenty of space to store keys (even duplicates on each hook). Multi-colored key tags and mounting hardware makes it easy to organize and install.
Key Box Holder
Secure Keyed Access To Your Key Cabinet
The KeyGuard lockable key cabinet offers convenient key storage management. The lockable key cabinet are secured by a disc tumbler black cam lock to help you quickly access your keys. The key cabinet comes with a spare key to the lock so that it can be issued to someone else who needs access or to make sure there is a spare when needed.
Heavy Duty Secure Lockable Key Cabinet
The KeyGuard Lockable Key Cabinet is made out of heavy-duty 16 gauge steel making it a durable and reliable product. It has a continuous piano hinge and steel hooks which means no flimsy plastic pieces breaking off and falling apart. This key storage cabinet is built to last and do the job of securing and storing keys the right way. These key cabinets come in high capacity 48 hook or 122 hook options providing the choice for small or large key storage.
Accessories for Additional Use
Want to secure your new Lockable Key Cabinet to the wall? No problem! Wall mount supplies are included to make installing and accessing the keys as easy as possible. Key tags are also included to make organization a breeze when storing away multiple keys that truly need easy identification. The 48 hook model comes with 24 colored tags and the 122 hook model comes with 60 colored tags.